Latest Bootstrap Framework
We build responsive, mobile-first themes with the world's most popular front-end component library.
WordPress Version
This theme also already available in wordpress version, this is best solution for everyone.
Built with Gulp
Integrated with Gulp tool, making your project automatic and easy to running.
Built with Sass (included)
Change one variable and the theme adapts. Colors, fonts, sizes … you name it.
Browsersync
Integrated with browsersync, make your browser automatic reload. This will make your project easy.
Unlimited Color
Unlimited primary and secondary color, that can be easily modified with our nicely coded Sass files.
Full documented
Components, plugins, and build tools are all thoroughly documented with live examples and markup for easier use and customization.
One click install
Specially for WordPress, we have features one click demo import. This very easy to install theme like demo with one click.
Bootnews – Bootstrap News Template
Bootnews is a Bootstrap 5 News Portal, Magazine & blog Template.
Create a great news magazine & blog with bootnews template.
39 $
Bonus Amp theme worth 49$
Buy on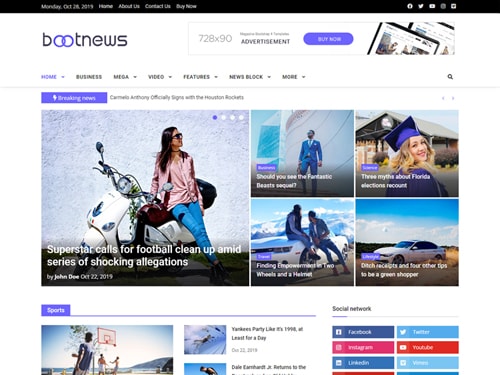 Live Preview
More Details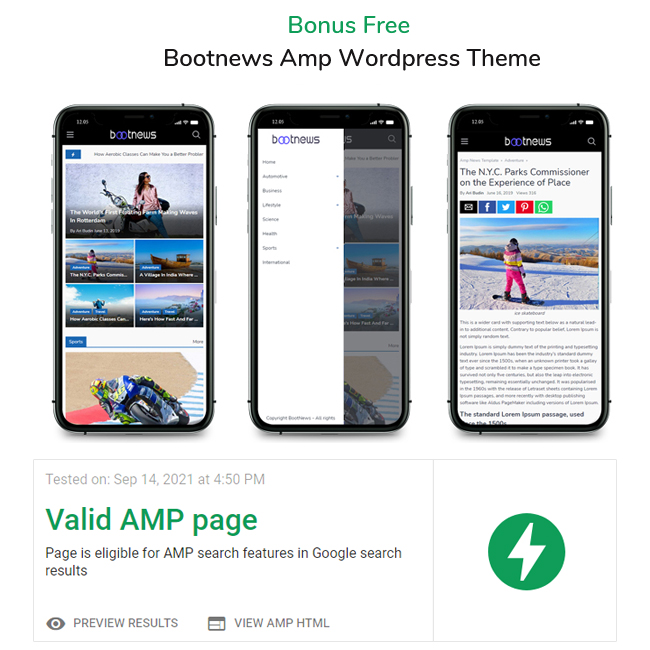 Core Web Vital Optimized
You must already know that Google will make algorithmic changes, especially the Core Web Vital that will affect the SEO ranking factor. Web vital is the metric that Google looks at on how fast the page loads, How interactive, How stable it is. So basically it's a tool for measuring the user experience on your site.

Bootnews makes a major update in version v.2.0.0 like no Jquery depedency, Bootstrap 5, plugins, build tools and html components. All updates to optimize the performance of the latest themes and technology trends. We have also optimized Bootnews 2.0.0 for Core web vital, so it will be easier for you to optimize your site.
We don't sell sweet promises, the Bootstrap.news site also uses the Bootnews theme. Please check the performance of Bootstrap.news at https://web.dev
WordPress Bootstrap Theme
Available in three version, HTML Bootstrap 5, WordPress Theme Bootstrap 5 and Bootnews Amp wordpress theme. If you programmer/designer you can use html version, we have many bootstrap component examples for your project. But if you want to use ready theme, you can use WordPress version. Don't worry just purchase one theme, you will get three version.
Bootstrap 5 news template
Bootnews – bootstrap portal template comes with a simple option panel which lets you easily change/modify and customize any section you want. Settings and change all design from appearance>> customize.
Testimonials
What do customers who have used Botnews say?