Bootnews has 12 widget areas on the homepage, these are for customizing layout content. The method is very easy, just open wp-admin >> Appearance >> customize >> widget >>
Widget area map like following image: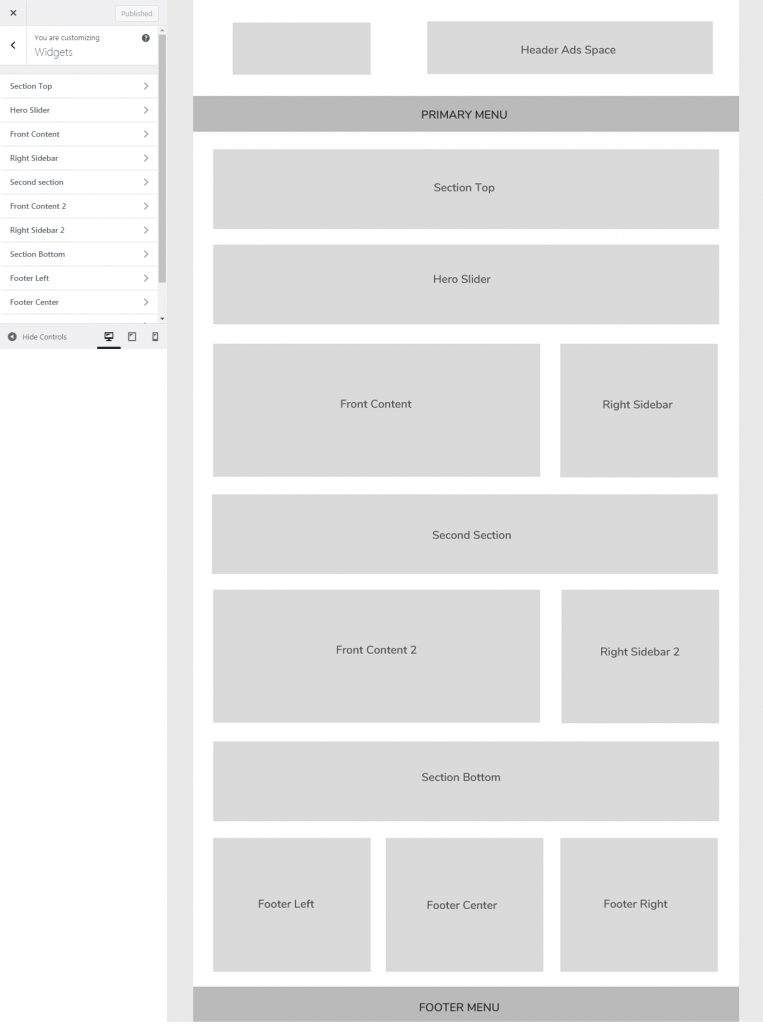 All area widget area fixed position, but flexible right sidebar can change on left or right sidebar. If the widget area is empty, the layout will be hidden. So if you only need the front and right sidebars, insert widgets here and clear all other widget areas.
For Hero slider area, insert widget "content: big grid" to make big grid slider. On hero slider you also can "slide" any component, images or other widget.
Widget content
Bootnews have 21 default widget with two main widget, widget name is start with "Content: –" and "Widget: –"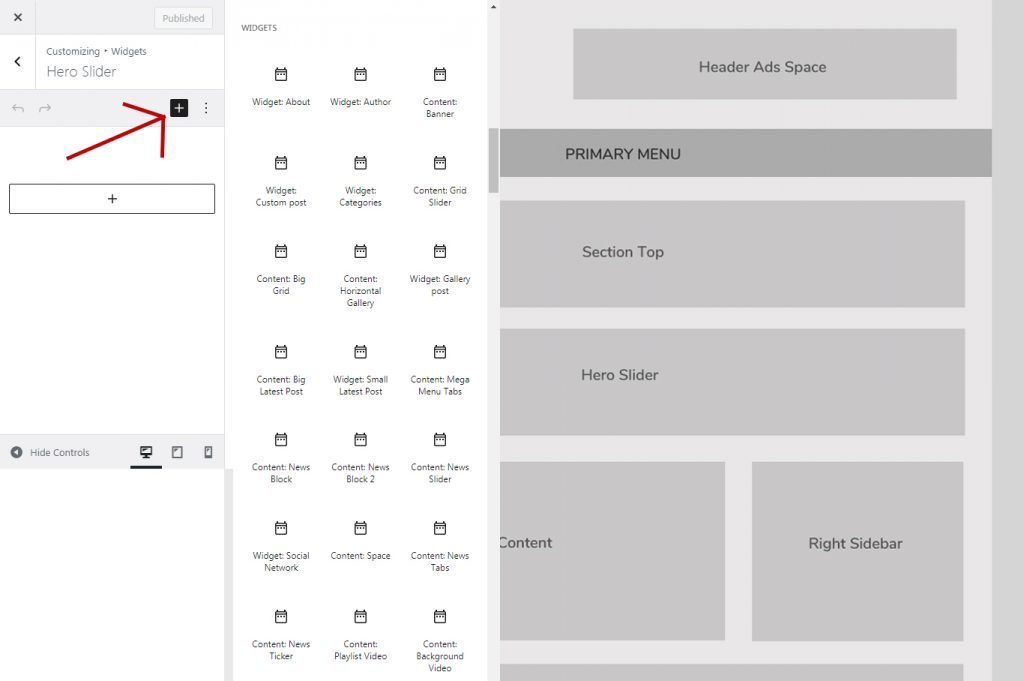 Content: —
This widget is for applied in full width section or front content area. Not recommended in sidebar or footer widget area because this optimized for width layout.
Content: Grid Slider ( Create Big Grid Slider block with 6 style available demo )
Content: Big Grid ( Create Big Grid block with 10 style available demo )
Content: Horizontal Gallery ( Create Horizontal Images Gallery demo )
Content: Big Latest Post ( Create Latest post block with 6 style available )
Content: Mega Menu Tabs ( Special tabs content for mega menu dropdown demo )
Content: News Block ( Create News block with 17 style available demo )
Content: News Block 2 ( Create Double News block with 4 style available demo )
Content: News Slider ( Create News Slider )
Content: News Tabs ( Create News Tabs with 2 style available demo )
Content: News Ticker ( Create News Ticker Slider and marque demo )
Content: Banner ( Create 3 block banner image with button and link )
Content: Playlist Video ( Create Youtube Playlist Video demo )
Content: Background Video ( Create Youtube background video demo )
Content: Space ( Widget space margin top and bottom )
Widget: —
This widget is for applied in sidebar or footer widget area because this optimized for short layout
Widget: About ( Create footer widget about us )
Widget: Author ( Create author info in Sidebar )
Widget: Custom Post ( Create custom small news post with 6 style available )
Widget: Categories ( Create Category with count in sidebar )
Widget: Gallery Post ( Create small gallery in sidebar or footer widget )
Widget: Small Latest Post ( Create small latest post )
Widget: Social Network ( Create Social network button with 6 style available )