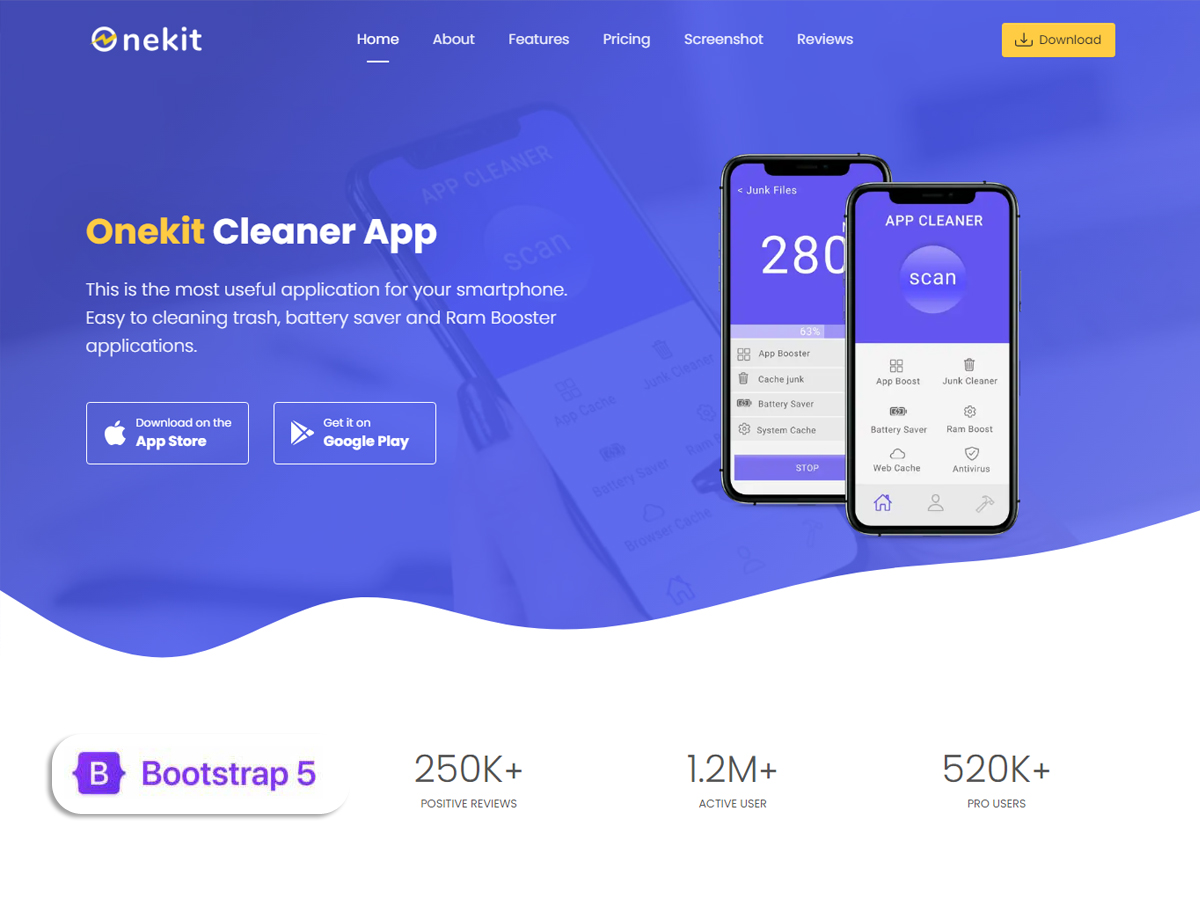 Bootstrap 5 template with optimized by Google core web vital. Create a perfect landing page with Onekit – Bootstrap 5 one page template. This template is can use for one page site and also excelent for multi page. If you want to create landing page with Bootstrap 5, Onekit is perfect for you.
Bootstrap 5 Template
Bootstrap 5 template with many features for make your project faster and easy. We're using official Bootstrap classes and elements whenever possible so integration with your project will be as smooth as possible.
We use modern tools for easy your devolopment process. This template integrated with Gulp, BrowserSync, and Scss. Very simple to start working with Onekit. Just open directory, run npm install, run gulp and running like pro.
What our benefit ?
Onekit is made with a recommendation tool from Google, namely Google web.dev. In this site, there are lots of tools available to create a really good site. Apart from that we also use the latest features from Bootstrap such as RFS Typography, Svg Icons, Tint/shade color, and many others. You can see complete features and plugins in following list.
Core features
Template Optimized with Google Core Web Vital
Coding oriented with Bootstrap 5 features
One Page and Multi page site
Supported on latest Bootstrap 4 and 5
Integrated Gulp, Browsersync and SASS
Supported Progressive Web App
Fast loading speed
Seo Friendly (heading tag structured)
Mobile first design
Code Validated by W3C
Vanilla Javascript ( No jquery dependency )
Shape background svg
Tint and Shade ( Sass level color )
Particle animate CSS
RFS ( resizing engine responsively scales )
Lightgallery.js ( premium plugin save 29$ )
Flickity Slider ( premium plugin save 25$ )
Isotope ( premium plugin save 25$ )
AOS animate
Jarallax
Typed JS
Counter Up
Smooth Scroll
Lax js
Waypoints
Bootstrap Icons
Ionicons
Google Fonts
RTL Supported ( for Arabic or Persian )
Commented code
Well Documented
24/7 Friendly customer support
And many more ( please check on demo site )
Bootstrap 5 examples
Default (Sass)
App Mobile
Portfolio
Personal
Company Profile
Online Course
and other pages
Free updates and support
After purchasing a Onekit Template , you get the right for a lifetime entitlement to download updates for FREE!
Need help?
For any questions or concerns, reach us out at support@bootstrap.com